All Formula Group Subsidiaries Report Substantial Growth in First Quarter of 2012
Or Yehuda, Israel, May 10, 2012 – Formula Systems (1985) Ltd. (NASDAQ: FORTY) a leading provider of software consulting services, computer-based business solutions, and proprietary software products, today announced its results for the first quarter of 2012.
Financial Highlights for the first Quarter of 2012
Revenues for the first quarter ended March 31, 2012, increased by 14% to $178.3 million compared to $155.9 million in the same period last year.
Operating income for the first quarter ended March 31, 2012 increased by 13% to $13.9 million, compared to $12.3 million in the same period last year. 
Net income for the first quarter ended March 31, 2012 increased by 87% to $7.8 million compared to $4.2 million in the same period last year. Net income included a net gain of $2.9 million resulting from the remeasurement of the Company's investments, primarily attributable to regaining the controlling interest in Sapiens.
Formula's consolidated cash and short-term and long-term investments in marketable securities totaled approximately $128.0 million, as of March 31, 2012.
Total equity on March 31, 2012 was $456.4 million, representing 53% of the total balance sheet.
Comments of Management
Commenting on the results, Guy Bernstein, CEO of Formula Systems, said: "These outstanding results reflect the strong start to the year made by Formula and its subsidiaries. Matrix reported record-breaking results for the first quarter of 2012, with substantial growth in all its activities, in particular in its core business as a leader in the provision of software solutions and services in Israel. Magic continued its success from 2011, with double-digit growth for the tenth consecutive quarter and very strong performance across the board in all of its regional centers of activity. Magic expects to continue its growth with new releases of its enterprise mobile and cloud-based technology. On January 27, 2012, Formula regained a controlling interest in Sapiens, demonstrating our firm belief in Sapiens' current and future performance. Following successful acquisitions, which have enhanced its product offering and expanded its global reach, Sapiens reported significant growth in the first quarter of 2012. We are confident that we can build on this impressive start to the year to achieve even greater success moving forward."
---
---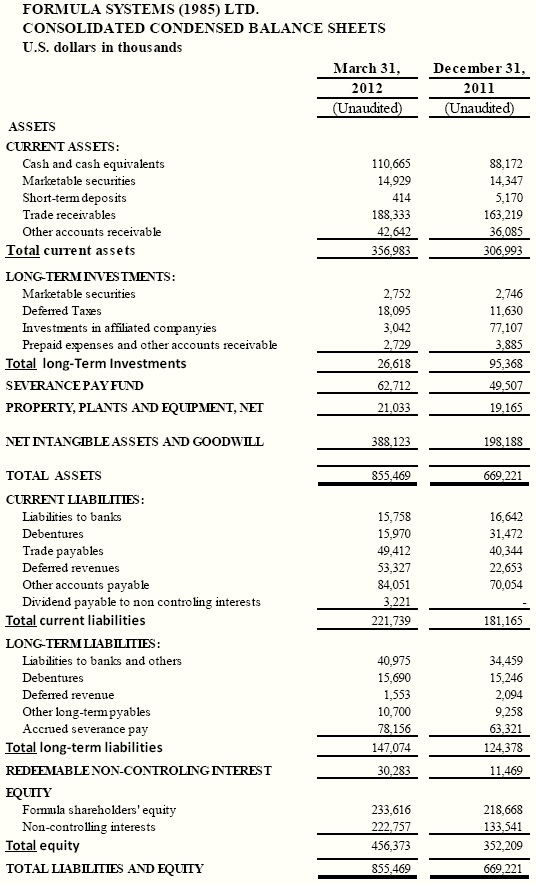 ---
Click here to download Formula Q1 2012 Results
About Formula
Formula Systems Ltd. is a global information technology company principally engaged, through its subsidiaries and affiliates, in providing software consulting services, developing proprietary software products, and providing computer-based business solutions.
Statements made in this press release that are not historical facts are forward-looking statements. Such statements involve various risks that may cause actual results to differ materially. These risks and uncertainties include, but are not limited to: market demand for the company's products, dependence on strategic partners, integration of new business, successful implementation of Formula's products, economic and competitive factors, international market conditions, management of growth, technological developments, the ability to finance operations and other factors which are detailed in Formula's Securities and Exchange Commission filings, including its most recent report on Form 20‑F. Formula undertakes no obligation to publicly release any revision to any forward-looking statement.
Contact:
Formula Systems (1985) Ltd.
Tel. +972-3-5389487
Email: ir@formula.co.il